SEO Supported
Our airbnb clone offers a good search engine friendly website with an in-built SEO friendly Content Management System and allows to easily integrate google analytics inside the website. Google always looks for good URLs and those URLs always get many clicks and ranks better in search results.
Referral Program
This vacation rental software contains a referral program called "Invite Friends". Referral program helps to acquire new customers and convert them. Rewarding new as well as old customers is a best practice to attain user acquisition.
Social Sharing
Be social to everyone. Social sharing is another kind of marketing technique across various kinds of social media platforms. It's one of the good ways to drive new users to your website and also brand promotion for your business.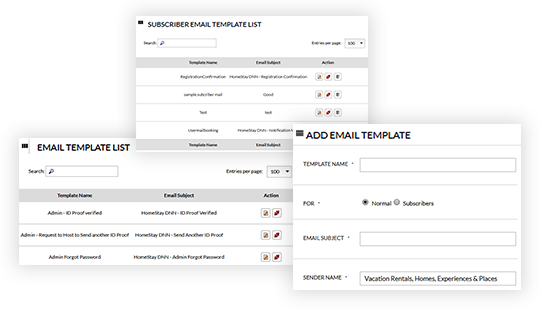 Newsletters
Without any doubt we know that Newsletters is an effective technique to drive conversions for your website. A healthy is a key to have a successful business; Newsletters can build relationships and trust towards your business.
Similar Listings
Like "Related Products" in ecommerce site "Similar Listings" is a good marketing technique, it is a kind of emotional activity which penetrates the buyer's persona. A user can find similar property or experience listings from the current viewing page.