Guest dashboard
Guest can easily manage his reservations and trips using guest dashboard. Guest is allowed to view and manage their previous trips, upcoming trips, wish list, transactions history, ratings and reviews.
Guest Verification
Authentication builds integrity in website as well as trust for website users. Each guest (or users) should complete a verification process via email or SMS, prior to make any reservations. Host will easily accept the bookings of a verified guest.
Booking Options
Guest can either choose either "Request to Book" or "Instant Booking" options based on the preferences setup by the host.
Search & Filter
Advanced search and filter option is provided for the guest to get the details of the properties or experience which they really look for. Our script contains amenity based filter option to get a refined search results.
Map and Location Based Search
The map will show the property list which available on that particular location. It helps the users to simply identify the property.
Cancellation Policy
Guest can able to cancels the booking made by him based on the cancellation policy mentioned by the host. The guest will get a refund amount based on the host's cancellation policy.
Disputes
Guest can raise disputes against the host if the guest experienced any difficulties during their stay or if the host doesn't provide any services which mentioned in their listings (or any misrepresentation).
Internal messaging
A guest can communicate with the host through the internal messaging system regarding their booking and staying. A host can offer a very comfort stay by knowing the guests.
Social Media login
Guest can easily login to dashboard by using his social media profiles. The usage of social media keeps us away from the curse of "password fatigue" and exhibit a user-friendly login.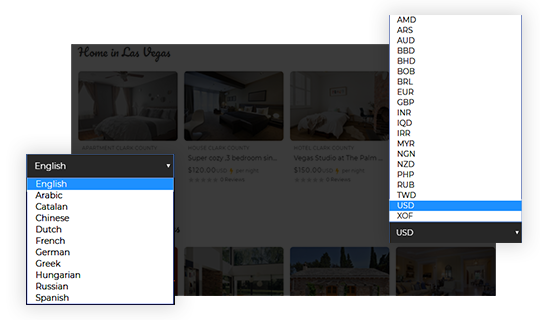 Multi Language & Multi Currency
People from anywhere in the globe can book their staying using HomestayDNN. This vacation rental script supports multi language and multi currency features to provide a hassle free booking experience.